I was browsing online recently when I stumbled across a mention of the Severn Bridge Half marathon, it was going to be the first time that they had closed the motorway on the original Severn Bridge and allowed people on to it to cross the bridge. It fell within a blank spot in my race calendar (the crazy list of stuff that I have signed up for on a seemingly random basis), so I pinged the Boyf to see if he would be up for it. Thankfully he was as I thought that this was just too great an opportunity to miss. I got us signed up and then we switched our focus back to the stress of moving house.
neither of us had done a huge amount of training recently, but we were hoping that having done a recent marathon and half marathon that we'd be OK.
We set off for Chepstow on Saturday after parkrun & immediately had to recalculate our planned route due to "M25 Junction 21 to Junction 12", luckily we were still above the delays on the M1 so headed across via Hemel, Aylesbury, Oxford and then dropped down onto the M4 to complete our journey. Arriving at the bridge it was quite exciting to think that the following day we would be running over it!
I had booked us into the St Pierre Marriott as it was conveniently located for the race start & would mean minimal pre-race travel. Unfortunately it didn't live up to expectations and resulted in me submitting the following review to Trip Advisor (it's still pending approval!)
"On arrival we struggled to find reception, having to wade through a courtyard filled with a wedding reception, it was unnerving having to intrude but there was no choice but to pass through the crowd. Room wasn't ready at 15:30 for a 15:00 check-in. Eventually we were told at 15:45 it would be 30mins, no guidance given on what to do in the meantime so I had to ask where the bar was. Bar was filled with noisy wedding guests leaving us to feel like intruders again. On finally checking in we were asked if we wanted restaurant bookings for dinner, we indicated the menu advertising the a la carte grill for the following week & said yes please I am sure they have something tasty like this on tonight. No comment from the staff but booking taken for 6pm. Turns out we were booked into the "pub" as the restaurant didn't serve until 7pm. We booked breakfast in room the next day as needed it for 6am before our running race (buffet wasn't open till 7am). Toast arrived barely toasted & included the end piece, coffee & hot chocolate were weak. On check out we weren't greeted with a hello or any comment, I had to open the conversation & ask to check out. Positives – the pub waiter was friendly & attentive, the bed was comfortable and the scrambled egg & bacon OK."
As you can see race day didn't get off to the best start food-wise (luckily I had some tasty gels from push nutrition to keep me going in the race itself), but we didn't dwell on it and headed off to Race HQ. Parking was easy, they had plenty of spaces so we dropped the car off and headed to HQ in search of the loos & start. The queue was massive, initially I thought it was just people waiting to walk to the start once the bridge had been closed but no, turns out the person to portaloo ratio wasn't quite as good as it could have been.
About 8:45 they finally set us off down the motorway slip road and we were officially standing on the M48! The start itself was on the Severn Bridge itself so we walked onwards to the start and popped ourselves in the appropriate start bin. It was really quite impressive to look back towards Chepstow to see so many people joining us.
The start countdown took place and the race was underway….a bit of a wobbly moment (quite literally) when the bridge gave a bit of a jiggle but that soon settled and after the standard slow shuffle from bin to start line we were away! I was immediately disappointed to see a number of people wearing headphones for the race, I am not against listening to music when running (in fact it really helps me) but the race rules had been very clear that this race was to be a headphone free zone. It sucks to follow the rules & then be surrounded by people breaking them. Still, I wasn't going to let it throw me off my game so I pushed aside my desire to log all their numbers in order to get them all disqualified & focused on my own race. The key for me was to maintain a steady pace, not let the lack of music cause my inner voice to make me quit & to finish! I made sure to keep my inner sprinter in check and didn't set off too fast. Once we were off the bridge we were out into the undulating country roads. I pushed on past the first water station, I still had plenty of water in my bottle and was feeling quite strong so keep running onwards. I really wanted to run as much of the course as possible so just eased my pace slightly as I needed to on the ups and tried not to push too hard on the mini-downs to avoid tiring myself too early. It was a great atmosphere with plenty of support from the marshals and locals who were lining the route, I tried to smile and thank as many of them as I could as I really appreciate people giving up their time so I can run. Water station 2 was soon reached and I took a brief walk break to swap water from their bottle to mine (to benefit from the sports cap), but it was only a walk break not a stop, so much improved from previous races where I have stopped for a breather & a chat!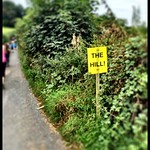 A quick discard of their water bottle into the bin and I was away again…..and then just after 11km I was there, "the Hill", and as promised in the race info it was clearly signed. I had decided in advance that I would be allowed to walk the hill to keep my legs for the rest of the race, so I hiked up at a good pace, overtaking a few people on the way.
I reached the top and set off on the nice 2.5km of down, upon reflection I should have pushed harder at this point in the race but I was still pushing myself to keep a steady pace and not get over-tired. We were soon heading back to the bridge and tiredness was kicking in, my heart rate was also up above 190bpm so I allowed myself to start interspersing walking with my running. I really wanted to keep running but even with my internal mantra "strong legs, happy heart" wasn't drowning out the quitty voices anymore (Queen's Don't Stop Me Now would have been the perfect soundtrack for the up-climb as we rejoined the pedestrian path of the Severn Bridge). I was not giving up though and if walking meant I finished then so be it!
The bridge went on seemingly forever, but eventually I was over it and looped round down a small hill & through the under-pass towards the finish. plenty of encouragement was received from finished runners at this point but there was still a sneaky uphill to contend with…I pushed hard and ran most of it but had to ease to a walk for the final third, the majority were walking by now too so I didn't feel too bad. I crested the hill and kicked for an epic sprint finish over the final 100m overtaking about 8 people on the last stretch! Such an awesome feeling crossing the finish line! 2:27:31, not a PB but certainly my smoothest paced half so far. I proved to myself that I can do a half with no music and remain (mostly) positive and that I can run for that long without actually stopping to rest (walk breaks are allowed as I am still moving forward!). I also learned that if I know I am going to walk that I should push it a little bit harder on the downs so that I can balance the time out a bit better. If I had hammered it a bit harder after "the Hill" then I might have snagged a PB. I'm not down about it though as it gives me a positive base to build on for future races.


The Boyf did really well as ever finishing in 1:32:25! The great thing about him being so speedy is that he can finish, change and be on hand to get a photo of me as I sprint for the line!
I think we would both like to do this race again next year as we could both shave some time off now we know the full course and have a better idea of when to push and when not to. The goody bag was great, with a good mix of sweet & savoury options along with a pretty cool technical shirt and a ceramic medal! Bring on 2015.
You can view all my pics from the race on Flickr