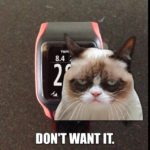 This is a bit of a mini-rant post typed in grumpedness….
Grrr the TomTom MySports connect software is annoying! Because I have synced my phone with my watch to get instant stats view I lost the opportunity to get a file export in order to upload elsewhere for comparative studies. Google helped though and I managed to work it out.
It has to be said that TomTom MySports (and MapMyRun which kind of feeds it) is not brilliant. It doesn't give me enough information for my needs, in fact I can-t even seem to track down kilometre split info in MySports. You can in MapMyRun but who wants to have to switch between 2 programs to get all the info they need? (Yes OK I use, Garmin Connect, RunKeeper, Endomondo, Zombies, Run! and Training Peaks but that's my choice, I'm not forced to do so just to see my km splits).
Then after getting it in to Garmin Connect….One split for the whole half marathon! Suckiness to the extreme.
I have gadgets because I like to be able to use the information that they gather after I have finished and the TomTom is lacking in that aspect. No post workout summary on the watch, stats on iPhone and online post sync are woeful and I struggle to even find where past activities are hidden on the watch itself. I accidentally found them once (I clicked up whilst waiting to start a run and there they were), but it's not a logical place to look (in my opinion anyway).
So whilst I wanted to share a detailed comparison of TomTom to Garmin stats over the course of the Severn Bridge Half Marathon it's not going to happen I'm afraid as there's only so much effort I am willing to put in to blog post production and in all honesty it's making me grumpy (as is the fact that I am typing this on my Mac Air, which has a different keyboard on it from my iPad where I type this morning's race review and different again from the QWERTZ keyboard I use on my work laptop – all the keys are in all the wrong places and ' have become – and y-s have become z's).
You'll just have to live with knowing that the distance logged matched pretty much on Garmin and TomTom and the heart rate stats were TomTom (185bpm average max 205) vs Garmin 620 (183bpm average, max 195)…..so pretty close all in all although I am really glad that I didn't see the alleged 205 max otherwise I would have been even more stressed than I was already!
So from Garmin Connect here's a quick summary for you: