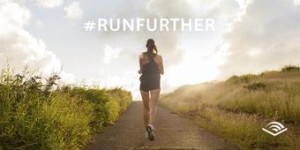 I am a big fan of audiobooks, and since I was a child I have always listened to books as well as reading with them. Â I hate sleeping in silence so I generally sleep wearing headphones listening to them as well (the Harry Potter series read by Stephen Fry are my favourite for this).
When I saw Audible UK start using the hashtag #RunFurther on Twitter last week I decided to get in touch and find out what it was all about. Â They wanted to know if listening to an audiobook can help you to run further. Â I know from experience that it certainly helps me! Â Whilst I tend to listen to music if I am doing sprintervals I always listen to audiobooks over longer distances. Â I find that not only does it help me keep my pace nice and steady but having a good book in your ears can help ease the boredom, distract you from the pain and if you have the right book you'll find you have either run further than you thought you could or you want to keep running so you can hear the next chapter.
With my credit I have purchased Natural Born Heroes by Christopher McDougall (author of Born to Run, another audiobook I have) and am looking forward to hitting the road this week and having a good "read". Â I had planned on using this as a way to distract me from any pain or boredom up in Staveley on Saturday but I saw sense and changed my run location for the day so I definitely need to start listening this week.
Another good audiobook I am listening to at the moment is the Chimp Paradox by Prof Steve Peters. Â I first heard about this in another audiobook, Ronnie O'Sullivan's Running: The Autobiography…..can you sense a theme here? One book leads to another and mile after mile I #RunFurther.
If you aren't already an Audible member then why not take this opportunity to sign up for a free 30 day trial. Â Swap your playlist for an audiobook and see if it helps you to #RunFurther too!
If you are already an audiobook fan then let me know what else I should be reading "on the run" in the comments.