Saturday, it falls just 5 days after Monday, and this Saturday was the first time I attempted to complete a second marathon in a week.  We were back in Kent, returning to Pegwell Bay, the location of our first ultra, back in February.  It was lovely to be back and I already had my race strategy planned out, walk up the hill, run down the hill and run as much of the rest of the course as I could…oh and walk out of the aid station refuelling.  Marmite cheese straws and Southern fried mini chicken balls were the day's snack of choice. The weather was much better than Monday's Cakeathon, and I actually ran for the whole race without over-heating!  I even put on a layer once the sun went down. Whilst Black Hugin was run on the same course as the Hugin, it started at 4pm meaning that mandatory head torches had to be donned at 7:30pm to ensure you didn't get lost in the dark. Everything started really well, I settled into a good, steady pace and put my run/walk strategy into action by fuelling on the hill.  It's a lovely course with a mix of trail and road.  You wander through the country park passing horses and Highland beasties and then head out of the park, up past the Hugin Viking ship and then back down to the park again.  The course is a bit of a figure 8 really and this means there are quite a few out & back sections where you see other runners.  I hit the half marathon point in 2:26:51, 8 minutes faster than Monday's 2:34:59, I was feeling much stronger than Monday, which just goes to show that run/walk suits me.  It's just a shame I chose to add Yazoo into my fuelling strategy.  The Boyf swears by it, it got him through Spitfire Scramble, but it would seem that it doesn't agree with me.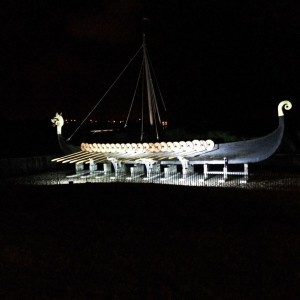 Shortly after leaving the aid station I felt myself struggling to swallow, I could breathe OK but swallowing was an issue, and I panic when this happens. When I panic the swallow gets stuck halfway, I can't breathe and I panic more.  I slowed to a brisk walk through the park and then decided I didn't want to risk heading up to the top of the course….I didn't want to quit but I was worried about how I was feeling.  Luckily stashed in my running first aid bag was a stash of anti-histamines…..a quick left turn and I popped a tablet before heading back out to complete my loop.  I was mostly walking, my legs were fine to run but my head wasn't letting me.  Thankfully the anti-histamine started to kick in and after a lap and a half I was feeling much better and started back on my run/walk.  I had lots of company on the way round, I love these races as you not only see familiar faces but make new friends as well.  Everyone loved my pink socks (they do mens' sizes in yellow) and once the sun went down I added flashing lights as well.  You certainly couldn't have missed me.
My pace picked up over the last 2 laps and I ran over the line in 5:48:20, marathon number 8 complete (and 10 minutes quicker than Cakeathon).  I quickly grabbed my goody bag and medal before heading back into the darkness to meet the Boyf as he came round to finish his 10th lap (32.75 miles).
Once again the medal was brilliant, the same shape as February's but this time with glow in the dark shields! Totally cool!
I now get to put my feet up until next Sunday (except for a couple of training runs obviously) when I head off to do the Thetford Iceni Marathon…..roll on number 9!